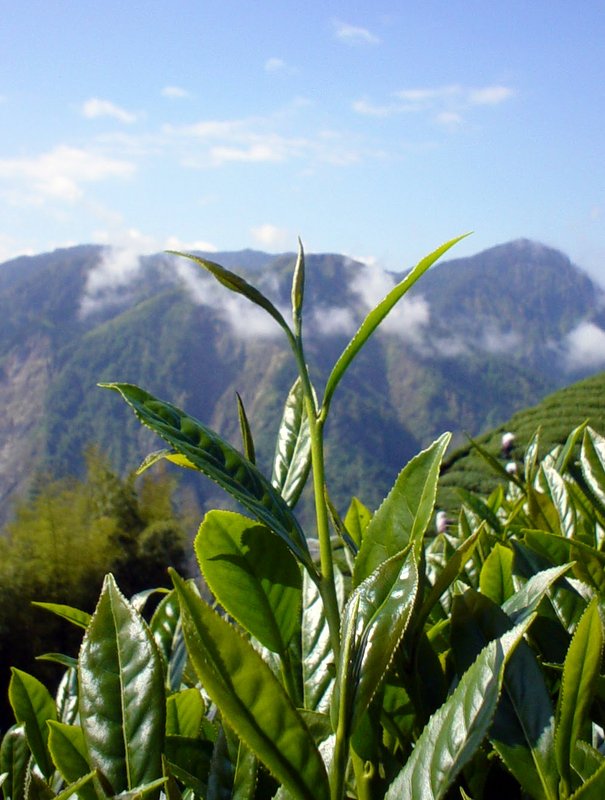 Taiwan Tea Tour – Winter Harvest 2019
November 1st – November 10th, 2019
***The reservation window for our 2019 Taiwan Tea Tour is now closed.  Check back soon for 2021 dates***
Welcome to Little Tree Tea's 2019 Winter Harvest Taiwan Tea Tour!  This tour will take you to the high mountains, traditional teahouses, and tea cultural centers of the 'Beautiful Island', Taiwan.  Taiwan is a laid back, sub-tropical island that is famous the world over for its high quality oolong tea.  It is a stronghold of traditional Chinese culture, art, language, and tea, yet it has always had one foot firmly planted in the future.  This tour is a great chance to see where the future of the tea industry is going while still soaking in the rich history that has made the little country of Taiwan such a tea producing powerhouse.
This tour will take you to Taichung, Lugu, Nantuo County, Sun Moon Lake, Ali Shan, Yingge, Muzha, Pinglin, and Taipei.  Your group will be accompanied at all times by a local, licensed, English speaking guide.  We will also have local, expert tea guides leading us through our many tea activities.
This tour will give you an opportunity to visit real tea farms and factories, learn proper brewing techniques from experts, relax in traditional tea houses, trek through high mountain tea gardens, taste tea at family run tea shops, and even make your own hand-made tea!
Our Taiwan tea tour is a completely unique tea experience and a once in a lifetime opportunity to visit some of the most beautiful places in Taiwan.  Winter harvest Taiwan oolongs are some of the most sought after oolong teas in the world.  Early November is also a great time to be in Taiwan with clear skies and cooler temperatures.  Don't miss this chance to live out your dream tea trip to Taiwan!
***The reservation window for our 2019 Taiwan Tea Tour is now closed.  Check back soon for 2020 dates***
Tour Dates: November 1st – November 10th, 2019
Cities/Areas: Taichung, Lugu/Nantuo County, Sun Moon Lake, Ali Shan, Yingge, and Taipei
Itinerary in Brief:
Day 1 – Taichung – arrive in Taiwan, welcome dinner at traditional teahouse, & Chinese massage
Day 2 – Lugu – Lugu Farmer's Association Tea Culture Museum, brewing class, & Dong Ding factory visit
Day 3 – Lugu – Shan Lin Xi high mountain tour, oolong tea making factory visit
Day 4 – Sun Moon Lake – DIY black tea making, Wen Wu Temple tour, & boat ride
Day 5 – Ali Shan – high mountain tea gardens
Day 6 – Ali Shan – tea factory tour & hike
Day 7 – Yingge – ceramics museum, ceramics studio, & shopping on old street
Day 8 – Muzha and Pinglin – Pinglin Tea Museum, Muzha tea gardens, gondola ride
Day 9 – Taipei – Jade Market, traditional teahouse, & free exploration
Day 10 – Taipei – depart
Detailed Itinerary
-Depart home airport.  All flights need to arrive at Taoyuan International Airport (TPE) by 4pm on November 1st.  Depending on where you are traveling from, you may need to leave your home airport up to 3 days prior.
Here are some ideas on what to pack.
Day 1 – Arrival, Welcome Dinner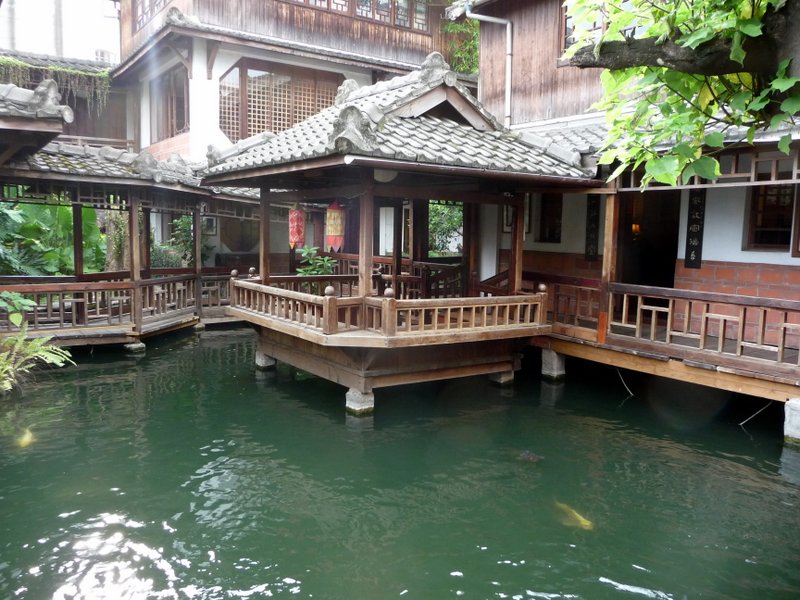 After your arrival at Taoyuan International Airport, you will be met by our English speaking guide and transferred by private transportation to your hotel in Taichung.  Located half way down the west coast of Taiwan, Taichung is the third largest city in Taiwan and makes for an ideal starting point for our exploration of central Taiwan oolongs.  After settling into your room, we will gather at the Wu Wei Tsao Tang Teahouse for a welcome dinner.  Wu Wei Tsao Tang is a traditional Chinese teahouse with private rooms , a coi pond, and gong fu tea service.  Here, we will enjoy our first taste of Taiwanese oolong tea along with dinner and live traditional music.
After dinner, you will be transported back to your hotel where you will be able to relax and enjoy a traditional Chinese foot massage.  The Chinese style of pressure point foot massage will stimulate nerves, increase circulation, and relieve stress – the perfect end to a long day of travel.
Day 2 – Farmer's Association Tea Museum, Dong Ding tea farm, & Brewing class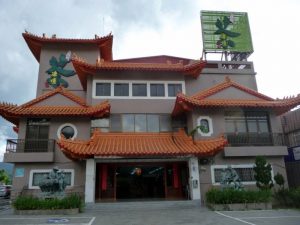 Our second day in Taiwan takes us straight to the heart of Taiwanese oolong tea.  After breakfast at the hotel, we will travel by private bus to the tea cultural mecca of central Taiwan – Lugu.  Lugu is home to the famous oolong tea, Dong Ding (also sometimes written as Tung Ting).  Nantuo County was the first place to start cultivating tea in Taiwan in 1697.  Lugu quickly became the most famous area for Taiwanese oolong tea after plants from Wuyi Shan were planted on Dong Ding Mountain in 1855.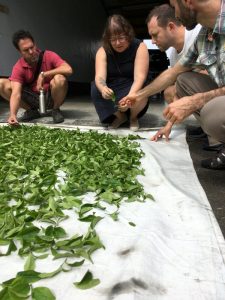 Our first stop in Lugu will be the Lugu Farmers Association.  The farmers association is the promotional and educational center of Lugu.  Here we will tour the tea museum and learn the about the complex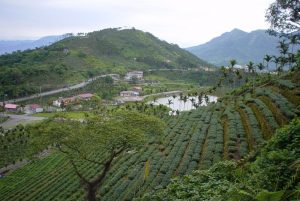 history of tea in central Taiwan.  This is a great intro to some of the places and techniques that we will see over the course of our tour.  After our guided tour of the tea museum, we will have a private brewing lesson led by an expert tea maker.  Taiwanese oolong tea is best made Gong Fu style.  We will have a hands on opportunity to learn this simple, yet intricate brewing style that is sometimes referred to as the Chinese tea ceremony.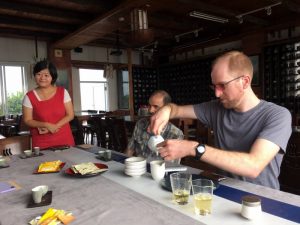 After our brewing class, we will get to see first hand a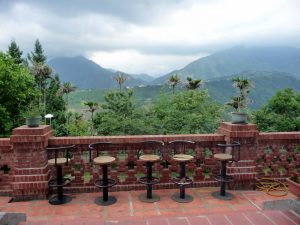 real Dong Ding factory.  We will get to see the equipment and machines used in making high quality oolong tea.  The exact schedule for tea making is dependent on the weather and other seasonal conditions, but hopefully we can catch the tea makers in the process of making tea or roasting their finished tea!
After our factory visit, we will check into our hotel for the night.  For our time in Lugu, we will be staying at a family-run guesthouse on top of Dong Ding Mountain.  We will be able to enjoy views of the surrounding high mountains of Nantuo County, the lush tea gardens of Dong Ding, and the lovely sunsets over Lugu township.
Day 3 – Shan Lin Xi High Mountain tour & Oolong Tea Making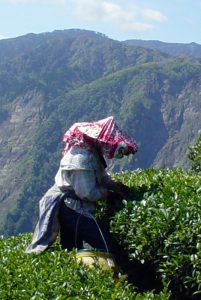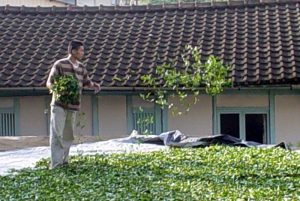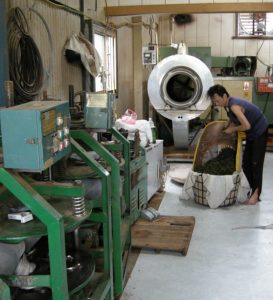 Our third day in Taiwan will give us a taste of the high mountains to come later in the tour.  After breakfast in the hotel, we will depart for Shan Lin Xi, the high mountain tea making area nearest to Lugu.  We will visit some of the high mountain tea farms that dot the steep slopes of Shan Lin Xi.  We will also be able to see the colorful tea ladies harvesting fresh new shoots from the lush, high mountain tea fields.

After our garden tour, we will visit a tea factory where we can see the process of oolong tea making in person.  Harvest season in tea country is an exciting and very busy time.  Oolong tea is the most complex and labor intensive tea to make.  The final product is completely dependent on the skill and experience of the tea maker and his or her workers.  Fresh leaves need to be processed immediately after picking and the total processing time (not including further roasting) can take up to 24 hours.  Because of this time frame, we are not able to witness a whole batch from start to finish, but we can peek at a few different stages of the processing and walk through the rest to get a complete picture.  The aroma in an oolong tea factory during processing is intoxicating and unforgettable.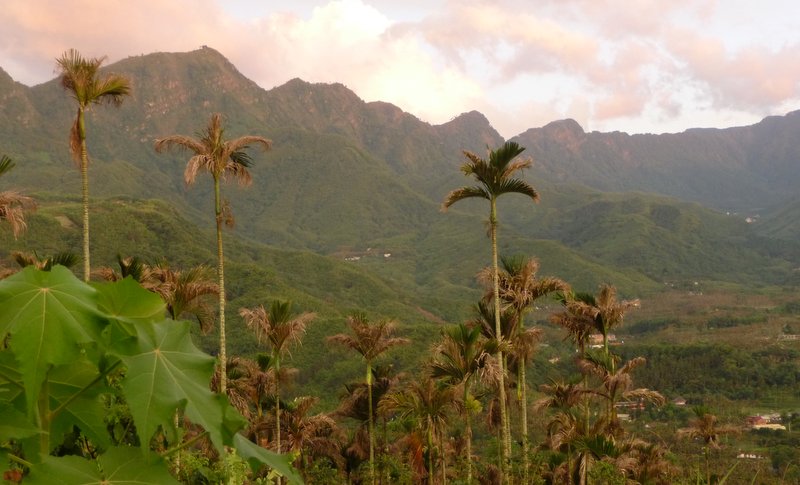 After our factory tour, we will go back to our hotel atop Dong Ding for a free evening of strolling the tea fields, mingling with the locals, and enjoying the views.
Day 4 – DIY Black Tea Making, Temple Tour, & Sun Moon Lake Boat Ride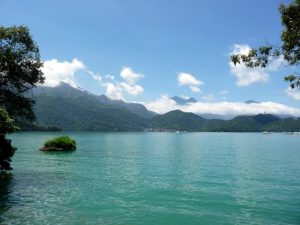 On our next day in Taiwan, we will travel to the beautiful Sun Moon Lake.  Sun Moon Lake is Taiwan's largest inland body of water.  It is located in Yuchi Township, home to the Thao aboriginal tribe.  Sun Moon Lake's tea industry is unique in Taiwan because it specializes in black tea.  The tea gardens covering the rolling hills surrounding Sun Moon Lake grow a combination of traditional Assam tea pants and Taiwan's own hybrid Ruby Red Number 18 tea plants.  Our first stop of the day will be at a black tea factory.  Here we will have a chance to make our own hand made tea.  Using a traditional hand rolling method, each of us will get to roll and oxidize our own small batch of black tea.  This is a unique opportunity to make a personal, one of a kind tea that you can take home, share with your friends, and reminisce over.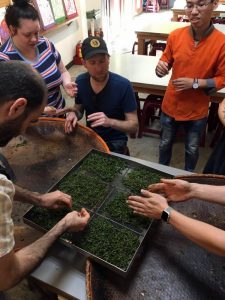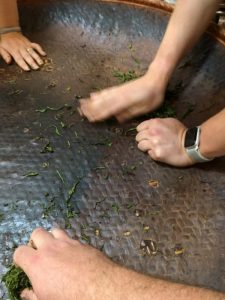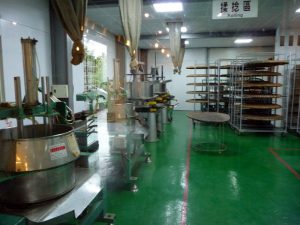 After our DIY tea making session, we will tour the busy Wen Wu Temple, which sits atop a bluff overlooking the beautiful Sun Moon Lake.  Our English speaking guide will show us around the temple grounds and help us understand the rites and rituals involved in Taiwanese temple visits.
After our temple tour, we will check into our hotel and, soon after, depart on a shared boat tour of the lake.  The lake, named because its east side is shaped like a sun and its west side is shaped like a moon, is a beautiful scenic spot and a popular tourist destination.  The large, blue-green lake is surrounded by beautiful mountain scenery that is even more spectacular when viewed from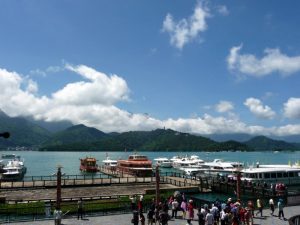 aboard a boat.
In the evening, after our boat ride, we will have a hot pot dinner at a garden restaurant near our hotel.  After dinner, we will have some time to wander the small streets of the aboriginal town, De Hua, on the banks of Sun Moon Lake.
Day 5 – Ali Shan High Mountain tea gardens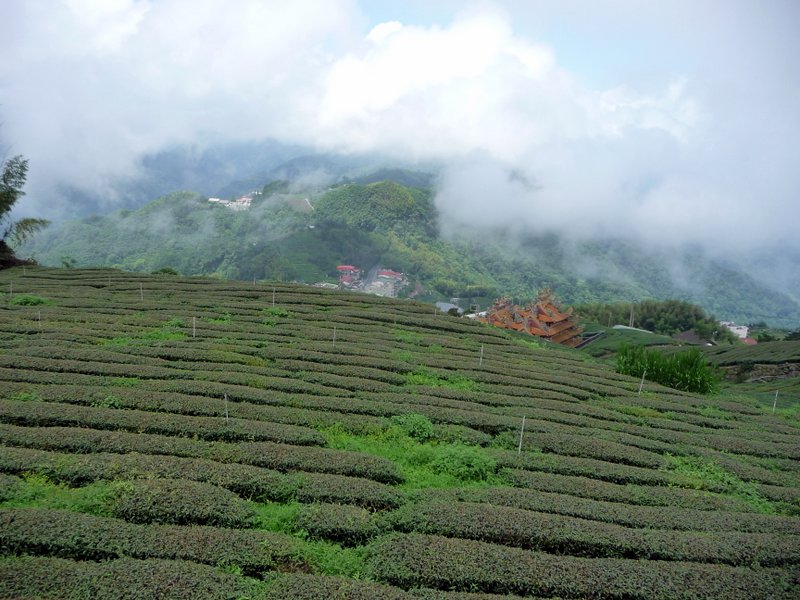 Our fifth day in Taiwan sees us leaving the serene Sun Moon Lake and heading back into the high mountains.  We will drive by private bus to the Ali Shan region of Chaiyi County.  Ali Shan is famous the world over for its high mountain oolong tea.  The Ali Shan National Scenic Area is a large region comprised of several towns, villages, and the Ali Shan Forest Recreation Area.  During our tea tour we will be staying, and spending most of our time, in the tea capital of Ali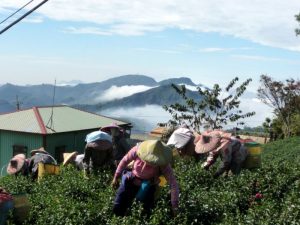 Shan, Shizhuo.  Many of Ali Shan's tea gardens cover the hills surrounding Shizhuo.  Shizhuo's downtown is also dominated by retail tea shops.
Upon arrival, we will go directly to one of the many Ali Shan tea gardens where we can witness tea harvest first hand. The tea gardens in this area range from 1000 meters to 2000 meters.  The steep slopes and cool mountain air are perfect for producing high quality, high mountain oolong tea.  When the sky is clear, the views from these high mountain tea gardens are awe inspiring.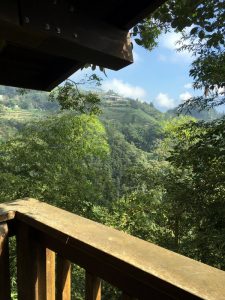 After our garden visit, we will check into our hotel.  During our time in the Ali Shan region, we will stay at a small guesthouse owned and operated by a tea farming family and situated directly in their tea fields.  This simple, yet comfortable, guesthouse is the perfect place to relax and get in touch with high mountain tea culture.  From the hotel patio, we will have direct access to the tea garden hiking trail that weaves in and around some of the most beautiful tea gardens in the world.  This is a chance to stroll through the high elevation tea gardens, soak in the mountain tea culture, and enjoy the captivating scenery.
Day 6 – Ali Shan Tea Factory Tour & Mountain Hike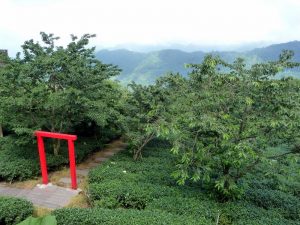 On our sixth day in Taiwan we will explore the Ali Shan region a little more deeply.  After breakfast at the hotel, we will visit an Ali Shan oolong tea factory.  Here we will see part of the processing that the fresh leaves go through on their way to becoming the delicate, fragrant, and intoxicating tea that is Ali Shan High Mountain Oolong Tea.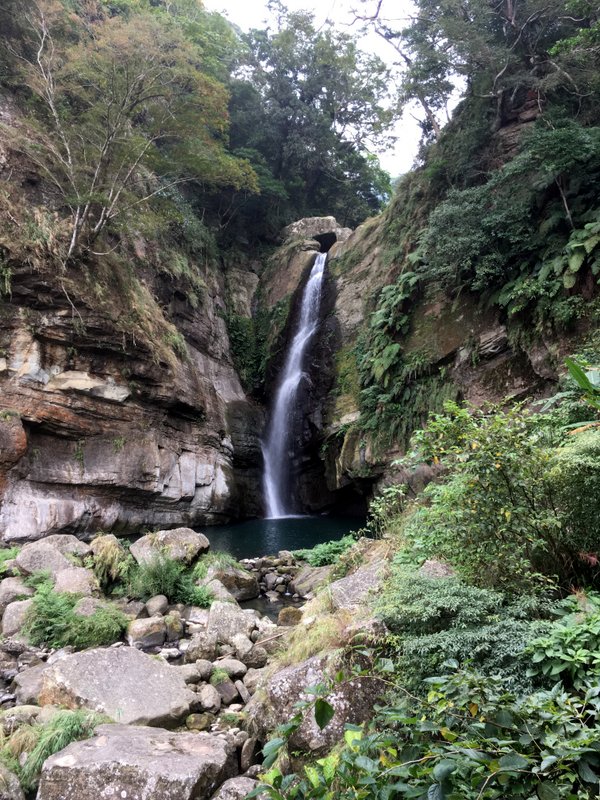 After our factory tour, we will stop in the town of Fenqihu for lunch.  Fenqihu is a historic town situated along the famous Ali Shan railway.  Trains still run from Chaiyi to this mountain station.  Originally a lumber town, Fenqihu is now mostly a tourist destination.  Its old street is filled with food stalls, craft shops, and souvenirs.  We'll have some time to stroll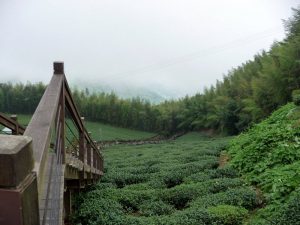 the old street and enjoy one of Fenqihu's famous lunch boxes.
After lunch we will hike the famouse Fenqihu-Rueilli trail.  This historic walking trail was originally a trade route that connected the towns of Fenqihu and Rueilli.  Starting on the Fenqihu side, we will walk down to the lower elevation town of Rueilli through the dense jungle and lush bamboo forests of Taiwan's central mountain range.  This is a great way to see the diverse ecology of Taiwan and the Ali Shan region.  Upon arrival in Rueilli, we will find ourselves among more tea fields and retail tea shops.  We can stroll the main street of Rueilli and taste tea before getting picked up and transported back to our hotel in Shizhuo.
Day 7 – November 4th – Yingge Ceramics Museum, Ceramics Studio, & Shopping on Old St.
This day brings us north as we leave the Ali Shan Scenic Area and head towards Taipei.  On the way to our hotel, we will stop in Yingge, an old ceramics town just outside of Taipei.  We will first visit the Yingge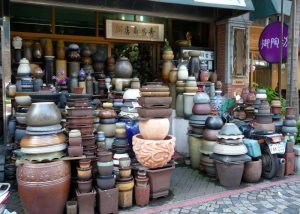 Ceramics Museum.  This modern museum showcases the ceramics industry that has flourished in Yingge for the past 200 years.  Over its long history, Yingge has been know for its ceramic teaware, bricks, flatware, and even bathroom fittings.  Now, Yingge is famous for all sorts of ceramics including specialty, artisanal pottery.
After our quick tour of the museum, we will get to visit a working ceramics studio.  We will get to see, first hand, master craftsmen creating some of the most prized ceramics pieces in Taiwan.  From there, we will have some free time to stroll through Yingge's old street, which is chock full of specialty ceramics stores, antique shops, tea shops, and art galleries.  This is a fantastic place to shop for tea pots, tea cups, tea trays, tea tools, and other hand-made Taiwanese souvenirs.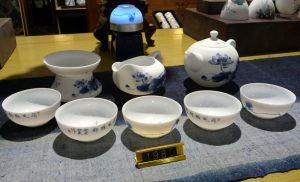 After a full afternoon in Yingge, we will travel to our hotel in the heart of Taipei.  Once checked in, we will gather for dinner at Cha for Tea.  This tea themed restaurant is part of Ten Ren's Tea Company, one of the most famous Taiwanese tea companies with many locations around the world.  Almost all dishes at this comfortable restaurant are made with tea or tea leaves.  Hot Taiwanese tea and delicious, cold tea concoctions are available to pair with your meal as well.
Day 8 – Pinglin Tea Tour, Muzha Tea Tour, & Gondola Ride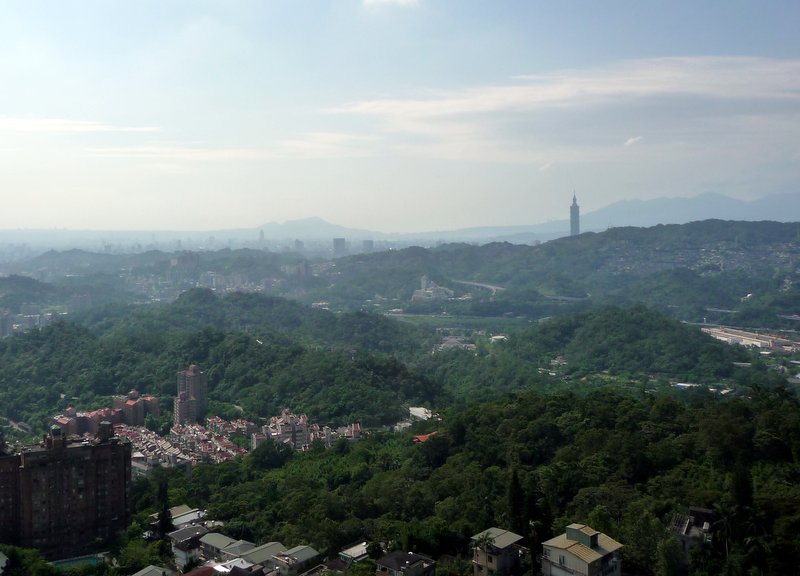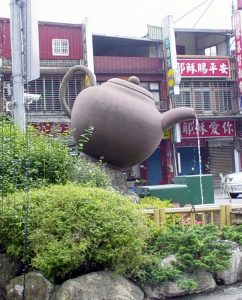 The eighth day of out tour will take us to the famous tea areas surrounding Taipei.  After breakfast at the hotel we will travel by private bus to Pinglin.  Pinglin is famous for Bao Zhong tea.  This lightly oxidized oolong tea is mild and refreshing.  We will first stop at the Pinglin tea museum.  Here we will learn all about the history of tea production in Northern Taiwan.  After our educational, guided tour of the museum, we will have lunch and stroll down Pinglin's old street.  Here we can visit many shops processing and selling Bao Zhong tea.  It is common in this area to see several generations of a family run tea shop sorting tea by hand on their front stoop.  We can stop and taste some fresh tea and enjoy the slow pace of this small town.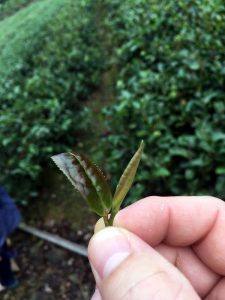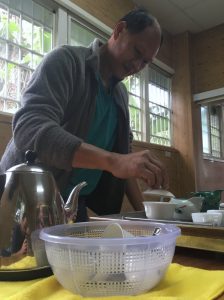 In the afternoon, we will travel by private bus to Muzha, another tea area on the outskirts of Taipei.  Muzha, also know as Maokong, is famous for its Tie Guan Yin tea.  This is a type of tea first brought to Taiwan from China in the late 1800s.  Most Tie Guan Yin is roasted giving it a famously robust yet floral character.  Muzha is a wide area covering several rolling hills just outside Taipei.  On a clear day, you can see the entire city of Taipei, including the famous and unmistakable Taipei 101, from the top of these hills.  Small tea plantations dot the hillside and in recent years, teahouses and cafes nestled in the hills have become popular destinations for city dwellers looking to escape the heat, hustle, and bustle of Taiwan's most populous city.  We will first visit a tea factory processing and roasting Tie Guan Yin.  We will see, and smell, the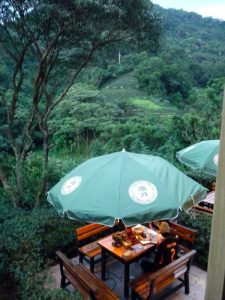 differences between the central mountain oolongs of Lugu and Ali shan and this northern Taiwanese oolong.  After touring the factory and tasting some tea, we will retire to a mountain side teahouse to enjoy some tea and dinner while soaking in the rich scenery.
After dinner, we will say goodbye to Muzha from the air as we take the Maokong Gondola back down to the city.  This modern gondola connects the Taipei metro system to the tea gardens and cafes of Muzha.  This is a lovely and enjoyable ride that will take you down from the mountains while enjoying the spectacular view of the lit up Taipei at night.  Once at the bottom, we travel back to our hotel for the night.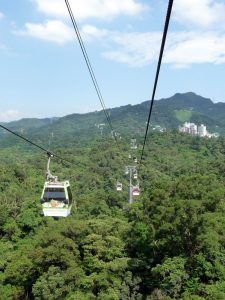 Day 9 – Taipei Jade Market & Traditional Teahouse
On our last full day in Taiwan, we will take advantage of Taiwan's capital city Taipei.  This modern, worldly city is full of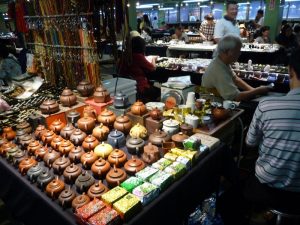 great food, shopping, art, history, and culture.  After breakfast at the hotel, we will visit the Taipei Weekend Jade Market.  This expansive covered marketplace is a weekend only extension of the Taipei Flower Market and includes an artists market as well.  The Jade Market is a popular shopping area with many vendors selling jewelry, sculptures, paintings, tea, tea pots, incense, furniture, antiques, and knick knacks.  This is a great place to see interesting and unique wares and hunt for the perfect souvenir.  Attached to the Jade Market is the Taipei Flower Market.  Although there is not much at the flower market that we can take back to our home country, it is an amazing place to wander through and see all the different plants and flowers that flourish in Taiwan's warm, humid environment.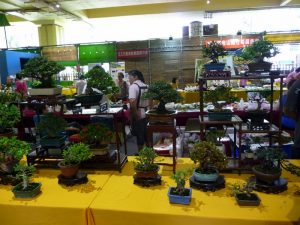 After exploring the shopper's delight that is the Flower and Jade Market, we will travel together to a traditional teahouse.  Here we will have a chance to relax with some great Taiwanese tea and enjoy a healthy lunch.  We will recap our journey of the past nine days, and have an opportunity to answer questions, tie up loose ends, and discuss what we have learned during our journey.  After lunch, we will have some free time to explore Taipei in your own way and at your own pace.  Whether you are interested in traditional Chinese art, high fashion, Taiwanese street food, night markets, Taiwanese history, Asian architecture, or just wandering around the back alley's of Taipei, we can help you plan an afternoon of activities that will fit your specific interests.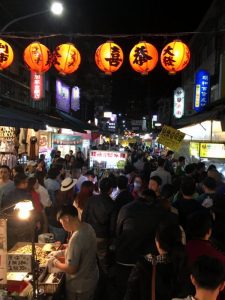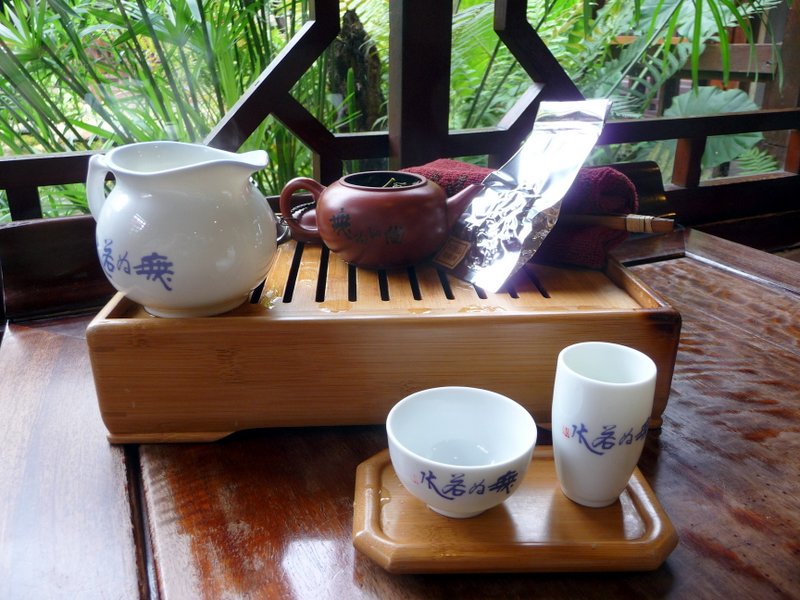 Day 10 – Depart for Home
This day completes our Tea Tour of Taiwan.  We will provide private transportation to Taoyuan International Airport (TPE) at any point during the day to accommodate your flight schedule.  Although this concludes our tour, you don't have to go home yet!  If you choose to, you can stay in Taiwan to explore other areas and activities that peak your interest.  Just let us know and we'll be happy to help you arrange further travel in or around the beautiful island of Taiwan.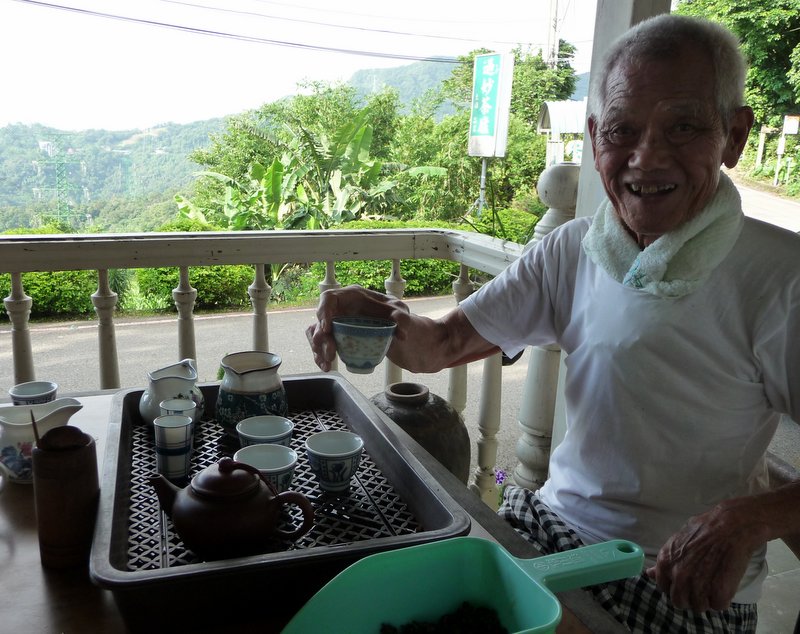 Learn about what to expect traveling to Taiwan
***The reservation window for our 2019 Taiwan Tea Tour is now closed.  Check back soon for 2021 dates***
Make a Reservation Now!
Price:
Double Occupancy: $2,980 per person
Single traveler: $3,480 per person
Price includes:
All transportation in Taiwan
All lodging
3 meals per day
All tea ceremonies, demonstrations, classes, and factory or garden visits
150g of Taiwanese Tea
English speaking guide
Price does not include:
Airfare
Passport and Visa costs
Travel Insurance
Alcoholic beverages
Additional food and beverage
Exact schedule, restaurants, and hotels are subject to change.  Tea harvest is entirely weather dependent and picking/processing dates can change dramatically from season to season. Our tea experts will work to arrange our tea farm and factory visits to allow us to see as much as possible during our tour.