Nepal Tea Tour 2019
October 19th – October 29th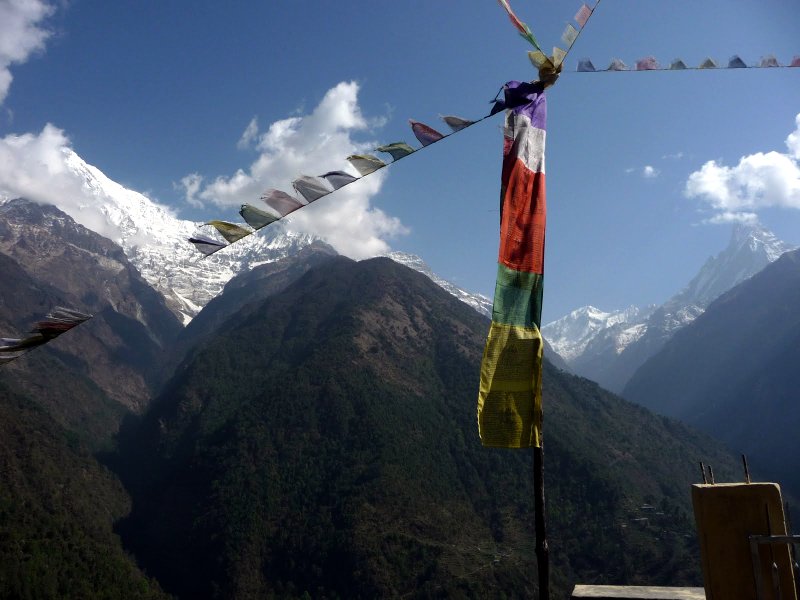 Welcome to our 2019 Nepal Tea Tour! Nepal is an beautiful country to explore with amazing experiences waiting for you. This tour will take you into the tallest mountain range in the world, the Himalayas, to learn all about tea production and explore the welcoming culture of Nepal. Come explore the small villages, temples, and stupas of the beautiful Kathmandu Valley as well as the captivating capitol city of Kathmandu. Immerse yourself in the tea gardens and tea culture of Ilam and Dhankuta in Eastern Nepal. Taste tea with professional tea makers and tea merchants. Mingle with locals at chai stalls and learn to make authentic chai for yourself. Relax, sip fresh tea, and take in the spectacular Himalayan mountain views on this one of a kind tea adventure.
We have also included optional (but highly recommended) tour extensions that explore the adventure sport hub of Pokhara and the Chitwan wildlife sanctuary. This is your chance to visit high elevation tea gardens, taste fresh tea, learn about tea cultivation and tea business, soak up the local culture, marvel at the enchanting mountain views, and have a once in a lifetime Himalayan adventure!
Make a Reservation Now!
Cities/Areas: Chitwan (optional), Nagarkot, Kathmandu, Fikkal, Ilam, Hile, Pokhara (optional)
Itinerary in Brief:
Day 1 – Kathmandu/Chitwan – Arrival and transfer to Chitwan
Day 2 – Chitwan – Nature and Jungle Activities
Day 3 – Chitwan/Kathmandu – Nature and Jungle Activities and return to Kathmandu
Main Tea Tour (October 19th – October 29th)

Day 1 – Nagarkot – Arrival in Nepal and transfer to hotel
Day 2 – Kathmandu Valley – Downhill walk and sightseeing through the Kathmandu Valley

Day 3 – Fikkal/Ilam – Transfer to Fikkal, Ilam and visit small tea farms and factories

Day 4 – Fikkal/Ilam – Visit Nepal's oldest tea plantation and factory

Day 5 – Hile – Transfer to Hile

Day 6 – Hile – Tour Jun Chiyabari tea factory

Day 7 – Hile – Sightseeing, tea garden visit, and Hile Bazaar

Day 8 – Kathmandu – Transfer to Kathmandu and chai making class

Day 9 – Kathmandu – Free day in Kathmandu
Day 10 – Kathmandu – Sightseeing of Patan and Swayambhunath

Day 11 – Depart/Travel to Pokhara
[Optional Post-tour Extension]
Day 1 – Pokhara – Transfer from Kathmandu to Pokhara

Day 2 – Pokhara – Ultra Light Flight and paragliding

Day 3 – Pokhara/Kathmandu – Return to Kathmandu and Depart

Read about our additional Trekking adventures!
Detailed Itinerary:
– Depart home airport. All flights should arrive in Kathmandu by 3pm. If you are unable to arrive by 3pm, consider arriving in Kathmandu a day early. Depending on where you are flying from, you may have to depart several days early.
Optional Chitwan National Park Pre-Tour Extension
We offer a pre-tour extension to the Royal Chitwan National Park. The park is one of Nepal's largest forest regions, with a wide range of wildlife, including the rare great one-horned rhinoceros, several species of deer, sloth bear, leopard, wild boar, fresh water dolphin, crocodile, more than 350 species of birds, and the elusive Bengal Tiger. Click here for details and pricing.
Day 1 – Arrival and welcome dinner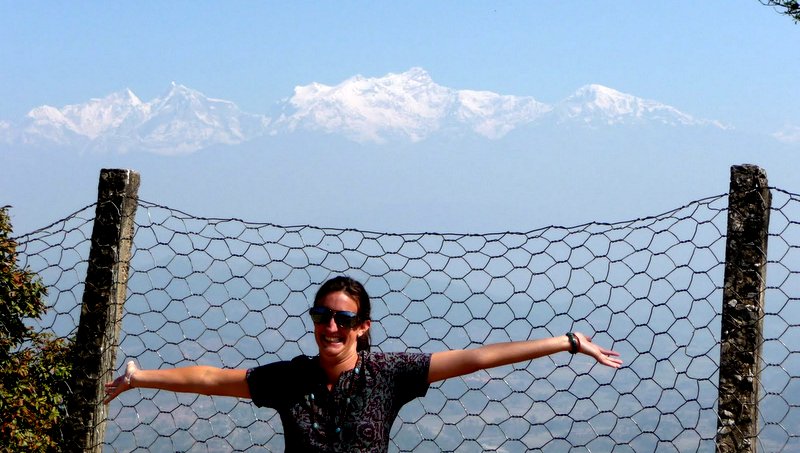 Upon arrival at Kathmandu International Airport (KTM) you will be greeted and transferred by private vehicle to your hotel in Nagarkot. A popular tourist resort, Nagarkot is situated 32 kilometers east of Kathmandu at an altitude of 2175m. On a clear day, the panorama of the Eastern Nepal Himalaya can be seen from here. Peaks such as Manaslu (8,463m), Ganesh Himal (7111m), Langtang (7246m), Choa Bhamre (6,016m), Gaurishanker (7134m) and Numbur (6957m) add majesty to the vista.
You will have time in the afternoon to explore the surrounding area or simply relax in your room. We will meet in the evening for a group welcome dinner at the hotel.
Hotel: Hotel Club Himalaya or similar
Day 2 – Downhill walk and sightseeing of Kathmandu Valley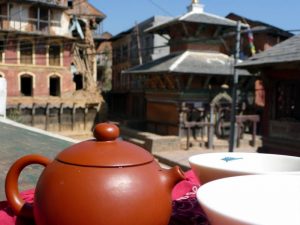 Day 2 will start with breakfast at the hotel before departing on an optional 2 hour leisurely downhill walk through villages and fields to the temple complex of Changu Narayan. Changu Narayan is situated at the end of the long ridge which runs well into the Valley, it is said to have been build in 323 A.D. by King Hari Dutta Varma. The temple is richly decorated with sculptures and carvings. Its is said to be the oldest temple in the Valley. It is situated about 153 m above the level of the Kathmandu Valley and affords a beautiful view of the surrounding countryside. After sightseeing around Changu Narayan, we will continue by private bus on to Bhaktapur.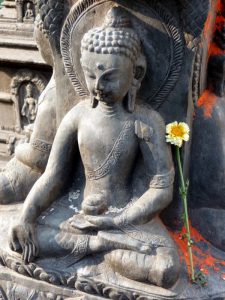 Bhaktapur (or Bhadgaon), situated about 14 kilometers east of Kathmandu at an altitude of 1401m, is a center of medieval art and architecture. The urban city covers an area of 4 square miles. Shaped like a conch-shell, Bhaktapur means the city of devotees. Pottery and weaving are its traditional industries. The main square of the city contains innumerable temples and other architectural showpieces like the Lion Gate and the Statue of King Bhupatindra Malla. Other places of interest include the Picture Gallery, the Golden Gate, the Palace of 55 Windows, the Batsala Temple and the Bell of Barking Dogs, and the replica of Pashupatinath Temple. After sightseeing in Bhaktapur, we will enjoy lunch at a local restaurant.
After lunch we will travel by private bus to Boudhanath. The Boudhanath Stupa lies about six km to the east of downtown Kathmandu and is the largest stupa in the Valley. It looms 36 meters high and presents one of the most fascinating specimens of stupa design. Boudhanath, a world heritage site, is also known as Khasti, or dew drops, after an account that says builders had to use dew to mix the mortar as Kathmandu was suffering from a severe drought during its construction.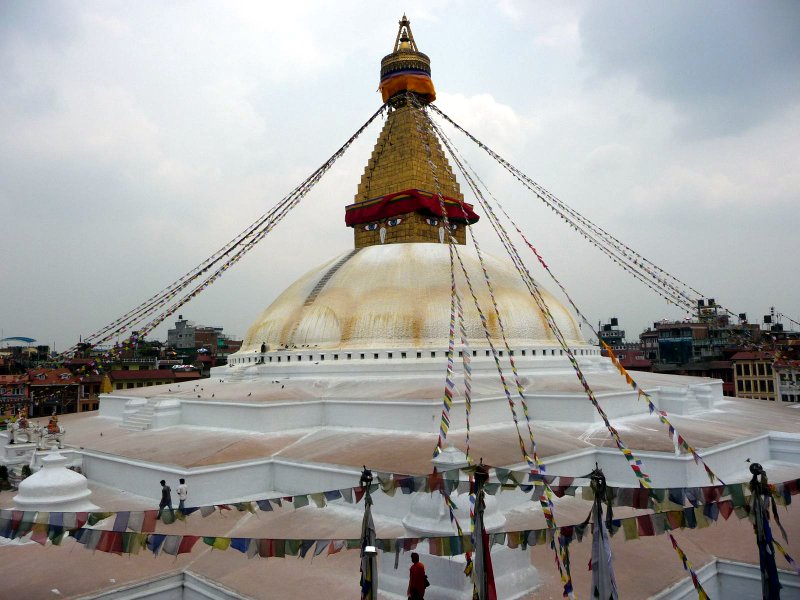 After touring Boudhanath, we will enjoy dinner at a traditional Nepali restaurant with a traditional Nepali cultural program. After dinner we will check into our hotel for the night.
Hotel: Hotel Summit, Patan or similar
Day 3 – The tea gardens of Fikkal and Ilam
Today is when we get out of the city and into the tea fields! After breakfast at the hotel, we will transfer to the
Kathmandu airport and fly 50 minutes to Bhadrapur. From there, we will drive 2 hours by private bus to the town of Fikkal in eastern Nepal's Ilam district.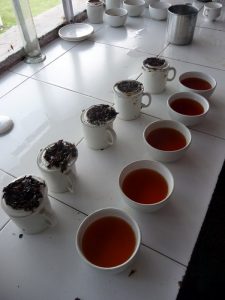 Ilam sits on the mountainous eastern most edge of Nepal. Ilam is famous for rare birds, red pandas, spices, and, of course, tea. En route to Ilam, we will stop at some small, family run tea gardens and tea producing factories to see small scale tea production.
After lunch at a local restaurant, we will visit the Jun Chiyabari Factory in Aitabare. Jun Chiyabari is one of the premier orthodox tea producers in Nepal. They produce many different types and grades of tea from green and white to oolong and black. We will have the unique opportunity to tour their Ilam district factory, see the manufacturing process, and taste several of their teas. Here we will learn from the experts about professional tea tasting, evaluation, and grading.
After our tour of Jun Chiyabari we will travel another 2 hours by private bus to Ilam Bazaar where we will enjoy dinner and check into our hotel for the night.
Day 4 – Tea and sightseeing in Ilam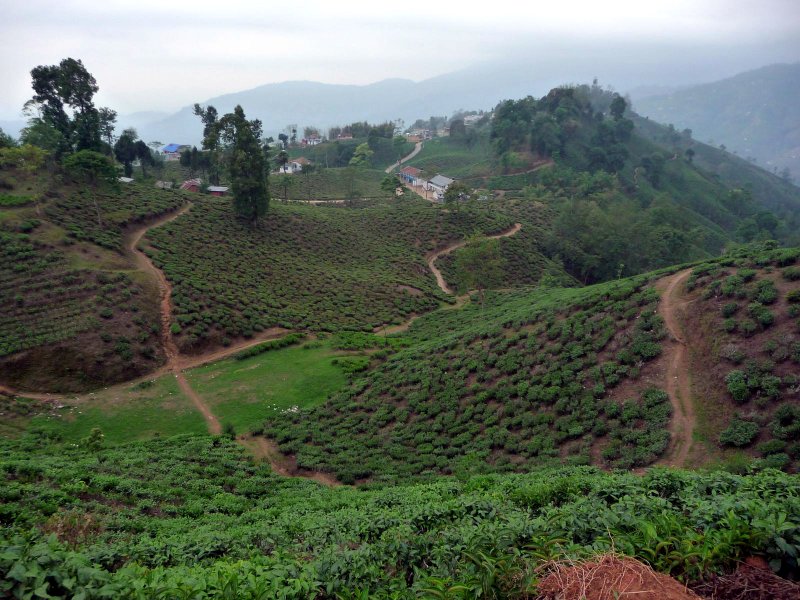 After breakfast at the hotel, we will travel to Nepal's oldest tea plantation. Founded in 1858, this tea farm and factory is truly part of tea history. We will get to tour this old plantation and learn about the long history of tea in Nepal and Ilam specifically.
After enjoying lunch at a local farmers house, we will continue to explore the tea culture of Ilam by visiting several other small tea producing farms and factories. Much of the tea produced in Nepal is grown on small, family owned tea gardens. We will have the amazing honor and opportunity to meet several of these hard working farmers, see how they grow and manufacture tea, and taste their finished products. Many of these teas are never sold on the international market, so this is a special chance to taste unique teas from small scale producers.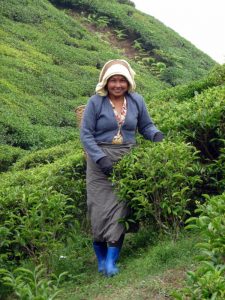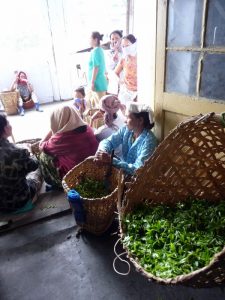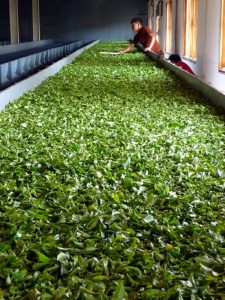 In the evening we will enjoy dinner at a local restaurant before returning to our hotel in Ilam Bazaar.
Day 5 – Travel to Hile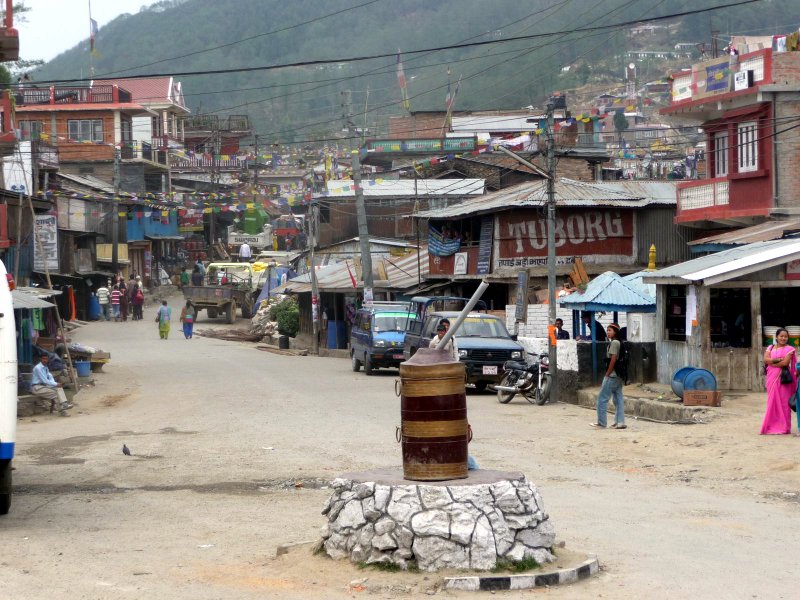 On day 5, we will wake early and enjoy breakfast at the hotel before departing for Hile. Hile is a small town in the Dhankuta district of central Nepal. Hile is not too remote by Nepali standards, but it is not a big tourist destination by any means. It does, however, produce some amazing tea and is the home to the original Jun Chiyabari tea estate and factory. The route to Hile is quite long and will take the majority of our day. While Hile is only about 100 miles from Ilam in a direct line, there are no roads directly linking the two towns. Therefore we will have to take the long way around. Our total trip will take around 8 hours by private bus. Along the way, we will stop for lunch at a local restaurant. We will also make several stops at local chai shops where we can see a small retail tea stand in operation and see how they prepare chai with tea and fresh spices. Chai is a big deal in India and Nepal and hanging out at the local chai shops is an authentic experience that should not be missed!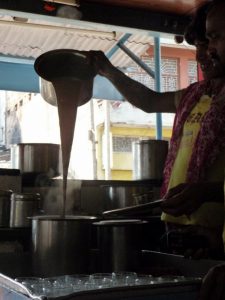 Upon arrival in Hile, we will check into our hotel and enjoy dinner before retiring for the night.
Hotel: Horizon Mountain Resort or similar
Day 6 – Tour Jun Chiyabari Tea Garden
Today we will enjoy a full day at the Jun Chiyabari tea garden. After breakfast at the hotel, we will travel to the tea garden. Here we will have an in depth lesson in tea growing, manufacturing, and tasting. We will tour the tea garden, observe the manufacturing in the factory, and taste finished tea in a professional tasting room. This day will showcase single origin tea making as you follow the leaves from field to cup.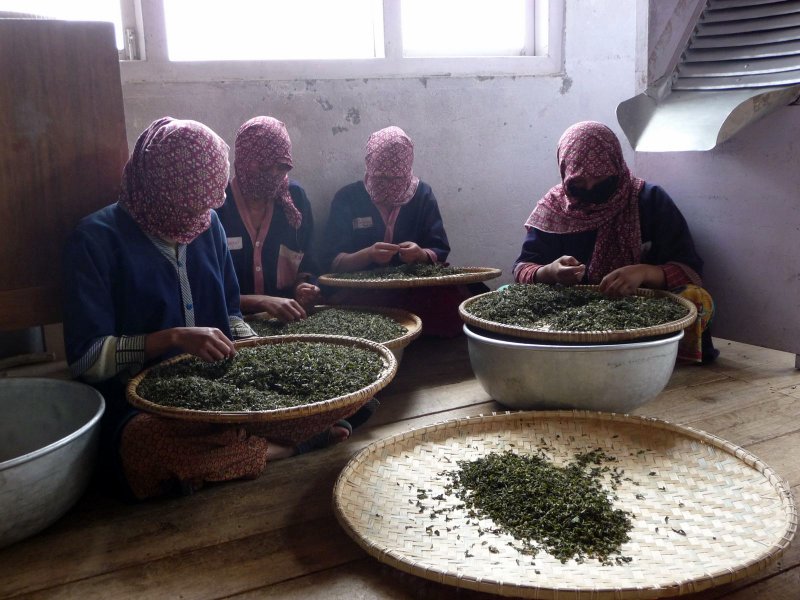 Our day at the Jun Chiyabari tea garden will include lunch and dinner. After dinner, we will return to our hotel for the night.
Hotel: Horizon Mountain Resort or similar
Day 7 – Hile Sightseeing
After breakfast at the hotel, we will have the opportunity to explore the town of Hile and the surrounding areas. We will explore some of the nearby villages and smaller tea gardens of Dhankuta District. We also will enjoy a relaxing picnic lunch at a scenic overlook.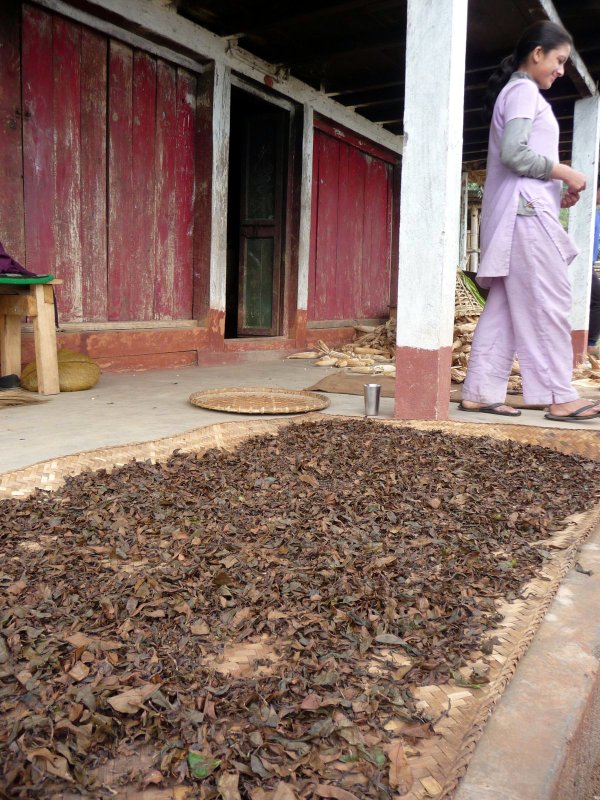 After lunch, we will return to Hile Bazaar where you will have some free time to shop and explore on your own before returning to the hotel for dinner.
Hotel: Horizon Mountain Resort or similar
Day 8 – Return to Kathmandu and Chai making class
After an early breakfast, we will depart the hotel and drive by private bus to the Biratnagar airport. From here, we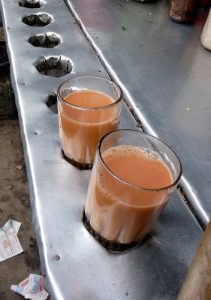 will fly back to Kathmandu. Upon arrival in Kathmandu, we will travel by private bus to our hotel where we will check in and enjoy lunch.
After lunch, we will have a private chai and traditional Nepali cuisine class. Here you will learn everything about how to make the perfect chai. There is a lot that goes into making a great chai – from choosing the right tea and grinding spices to adding the correct ratio of milk and sugar. We will also get a chance to learn from a real chef how to make some traditional Nepali snacks. Impress your friends when you return home with home made chai and Nepali food!
Dinner will not be provided after the cooking class, but it can be arranged individually if you are still hungry.
Hotel: Hotel Summit, Patan or similar
Day 9 – Kathmandu Free Day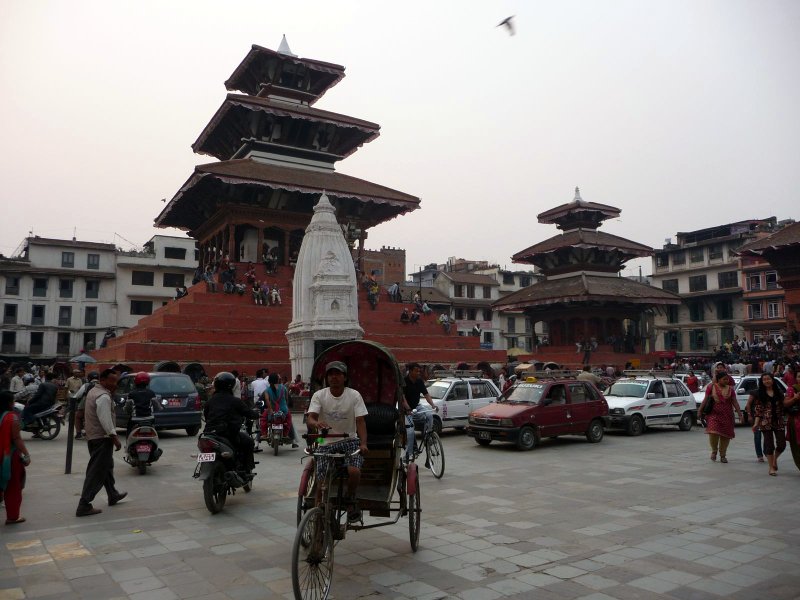 After breakfast at the hotel, you will get to enjoy Kathmandu at your own leisure. Wander through the back alleys, hang out at the local chai shops, shop for souvenirs in Durbar Square, have some pie on Freak Street, visit a temple, load up your suitcase at a lose leaf tea shop, or just relax in your hotel room.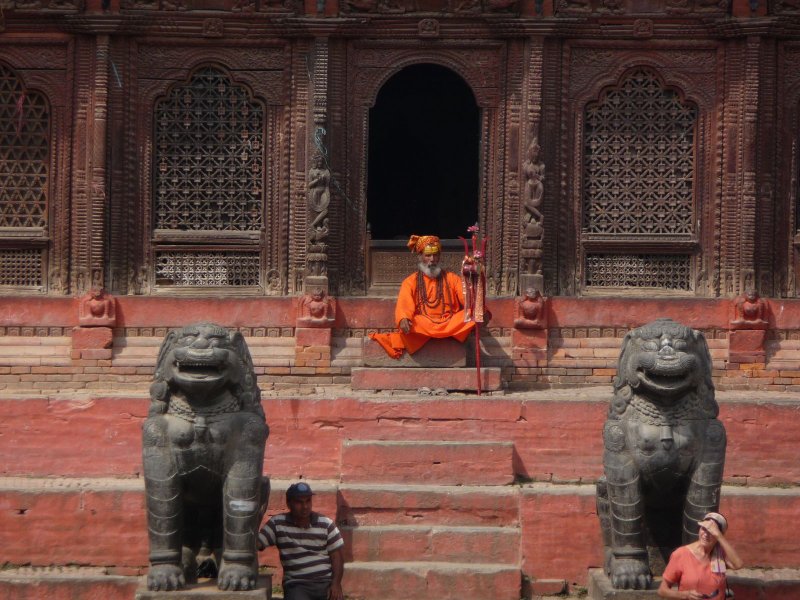 Lunch and dinner this day are by you own arrangement.
Hotel: Hotel Summit, Patan or similar
Day 10 – Sightseeing in Patan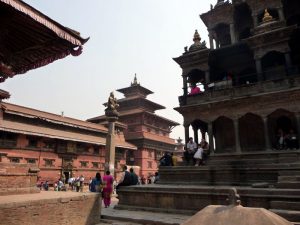 After breakfast at the hotel, we will enjoy a tour of Patan. The ancient city of Patan is situated on the southern bank of the river Bagmati. The city is full of Hindu temples and Buddhist monuments with bronze gateways, guardian deities and wonderful carvings. Noted for its craftsmen and metal workers, it is known as the city of artists.
Patan's Durbar Square, situated in the heart of the city, is the main attraction for visitors to this area. The square is full of ancient palaces, temples and shrines, noted for their exquisite carvings. A little further from Patan Durbar Square lies Mahabouddha. This Buddhist temple made of clay bricks is one of the fourteenth century Nepalese architectural masterpieces. Hiranya Varna Mahavihar, a three story golden pagoda of Lokeshwor (Lord Buddha), was built in the twelfth century by King Bhaskar Verma. It is located in the courtyard of Kwabahal. Inside the upper story of the pagoda, placed on a pedestal, is the golden image of Lord Buddha and on a large wall is a complete life of Buddha in gold relief. After touring the many sights, we will enjoy lunch at the Patan Museum Cafe.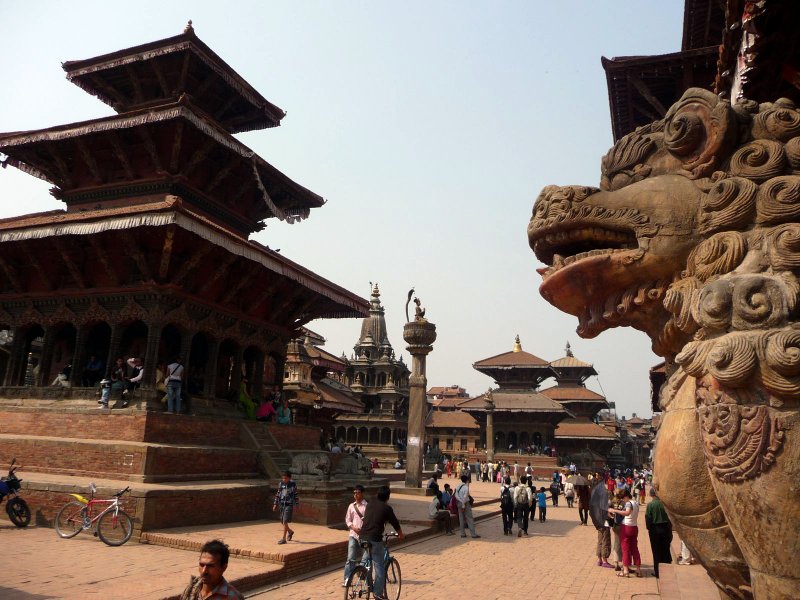 After lunch we will travel to and tour Swayambhunath. Swayambhunath is one of the world's most glorious Buddhist Chaityas. It is said to be 2000 years old. The Chaitya, which forms the main structure, is made of a solid hemisphere of brick and clay supporting a lofty conical spire capped by a pinnacle of copper gilt. Painted on the four-sides of the spire bases are the all-seeing eyes of Lord Buddha. It is situated on a hillock about 77m above the level of the Valley three kilometers west of Kathmandu City. This hill is a mosaic of small Chaityas and pagoda temples. This picturesque spot is a wonderful place to look out over Kathmandu and savor the memories of the amazing trip so far.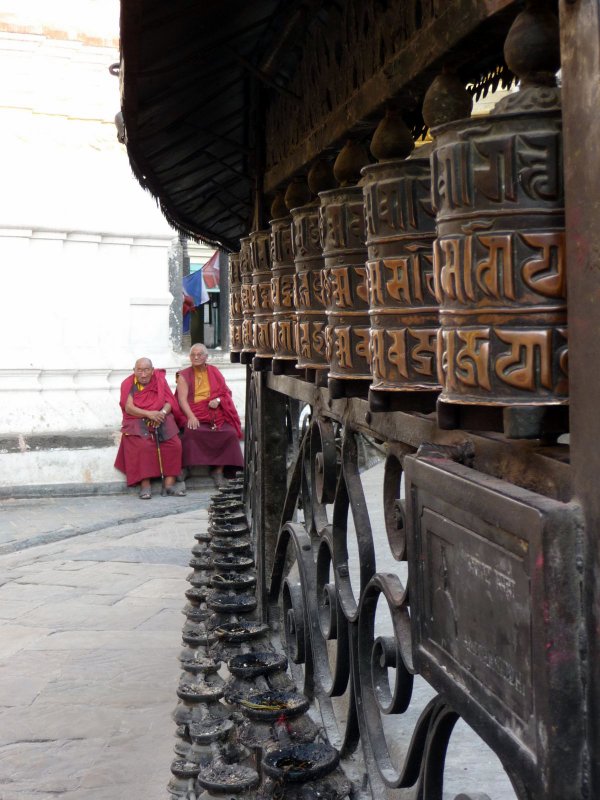 After sightseeing we will enjoy a farewell dinner at a local restaurant before returning to our hotel for the night.
Hotel: Hotel Summit, Patan or similar
Day 11 – Depart for home airport or optional post tour extension
Today you will enjoy breakfast at the hotel before traveling by private transfer to the airport. From here you will fly home, or fly to Pokhara if you choose to join our post tour extension.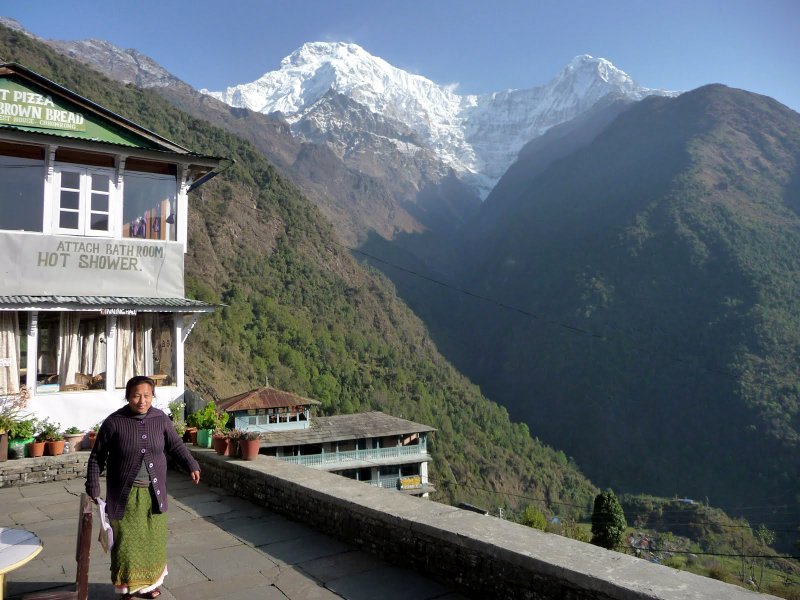 The Post Tour Extension takes us to the adventure sport capital of Nepal, Pokhara. The Pokhara Valley is one of the most picturesque in Nepal offering a panoramic view of the Annapurna range, which boasts some of the highest peaks in the world – over 7000m! As the town itself is only 850m in elevation and the distance to the snow clad mountains 40 km, the view becomes even more impressive as the massif literally looms over the valley. Several lakes (known as Tal in Nepali) within the valley also add beauty to the setting. Click here to learn the details and pricing for this post tour extension.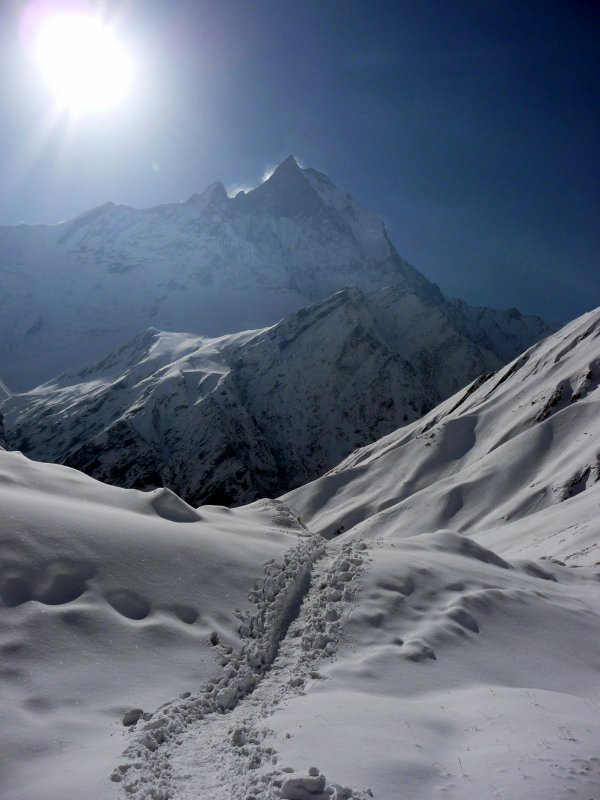 We also are happy to arrange independent guided trekking to Annapurna Base Camp, Everest Base Camp, and/or Poon Hill. Click here to read about the different trekking packages available.
Make a Reservation Now!
Main Tea Tour Price (Does not include pre or post tour extensions or trekking packages):
Double Occupancy: $2,950 per person
Single traveler: $3,310 per person
Price includes:
All airfare in Nepal during main tea tour
All transportation in Nepal in an air-conditioned vehicle
All lodging
3 meals per day unless noted
All tea tastings, demonstrations, classes, and factory or garden visits
Entrance to monuments and historical sites
English speaking guide
Price does not include:
Airfare to Nepal
Passport and Visa costs
Travel Insurance
Laundry
Alcoholic beverages
Additional food and beverage
Pre or post tour extensions
Trekking packages
Exact schedule, restaurants, and hotels are subject to change. Tea harvest is entirely weather dependent and picking/processing dates can change dramatically from season to season. Our tea experts will work to arrange our tea farm and factory visits to allow us to see as much as possible during our tour. All activities and schedules are subject to change without notice.